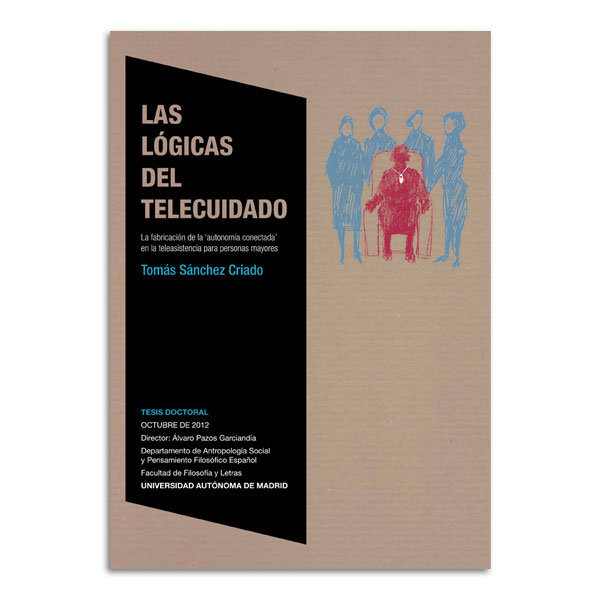 Título | Title
[ES] Las lógicas del telecuidado: La fabricación de la 'autonomía conectada' en la teleasistencia para personas mayores (11 de octubre de 2012), POP en Antropología de Orientación Pública, Departamento de Antropología Social y PFE, Universidad Autónoma de Madrid.
[EN] The logics of telecare: The fabrication of 'connected autonomy' in social alarms for older people (11th October, 2012), PhD in Social Anthropology, Department of Social Anthropology, Universidad Autonoma de Madrid.
Director | Supervisor
Dr. Álvaro Pazos Garciandía
Tribunal de tesis | Examination committee
Dr. Miquel Domènech Argemí (presidente | president)
Dr. Juan Carlos Gimeno Martín (secretario | secretary)
Dr. Eulalia Pérez Sedeño (vocal | chair)
Dr. Elisenda Ardèvol Piera (vocal | chair)
Dr. Carmen Romero Bachiller (vocal | chair)
Calificación | Qualification
Cum laude (highest distinction in Spain)
Depósito | Official record
Repositorio UAM | UAM's repository
TESEO (Ministerio de Educación, Cultura y Deporte | Spanish Ministry of Education, Culture & Sports)
Resumen | Summary
[ES] Esta tesis constituye el informe de un estudio etnográfico sobre la teleasistencia para personas mayores en la Comunidad Madrid. La teleasistencia se ha ido convirtiendo en la punta de lanza, en el servicio más extendido de todo un conjunto de sistemas y servicios tecnológicos públicos y privados, orientados al sector del cuidado de personas mayores y con discapacidad que podríamos denominar, importando el término inglés telecare al castellano, 'telecuidado'. Servicios que, eso plantean sus desarrolladores, contendrían la promesa de un giro copernicano en el cuidado de las personas mayores en respuesta a dos tendencias que han venido siendo advertidas por diferentes instituciones. A saber, la 'crisis de los cuidados' y el envejecimiento poblacional creciente.
Las tecnologías de la información, en la argumentación de los desarrolladores tecnológicos y los servicios que han surgiendo en teoría permitirían ayudar a que las personas mayores no tuvieran que moverse de sus casas, asegurando sus condiciones a partir de diferentes dispositivos telemáticos que, eso se argumenta, les permitirían vivir con una mejor calidad de vida. Sin embargo, ante la falta de estudios sobre los efectos de este tipo de tecnologías en los modos de envejecer y en la manera de articular vínculos de cuidado, este estudio, encuadrado en el marco de una antropología de la tecnociencia y diferentes desarrollos constructivistas de las ciencias sociales, analiza las prácticas de implementación y uso de los mismos, como una forma de atender a las cuestiones concretas que este tipo de servicios implica en la vida de las personas mayores a las que se les instala y de las personas que cuidan de ellas.
[EN] This thesis is the report of an ethnographic study on telecare for older people in the region of Madrid between 2007 and 2011. Telecare has increasingly become the most widespread service in a whole range of public and private systems and technological services aimed at taking care of older people and people with disabilities. Technological services, that grounding on the developers' claims would bring forth the promise of a deep transformation in the care of dependent populations in response to two trends that have come to be noticed by different institutions. Namely, the "care crisis" and "population ageing".
Information and communication technologies (ICT), or so the argument of technological developers and services would go, might allow to change the ways in which older and disabled people could be taken care at a distance in their homes, ensuring their autonomy thanks to different ICT devices, allowing them to live a better life.
However, given the lack of social studies on the impact of these technologies on the practices of ageing and how care relations might be affected in a context of widespread family care, my study –conducted within the framework of an anthropology of science and technology and various constructivist developments of the social sciences– analysed the practical implementation and use of such devices & services through which certain interventions and new articulations of 'users' as well as care relations and spaces emerged out.
Defensa de la tesis | Dissertation presentation (in Spanish)
Código UNESCO | UNESCO nomenclature
5103 Antropología social | Social anthropology
6306.08 Sociología de la Ciencia | Sociology of Science
6307.07 Tecnología y cambio social | Technology and social change
6307.05 Servicios sociales | Social services
PUBLICACIONES VINCULADAS | RELATED PUBLICATIONS
> Book chapter: "Civilising technologies for an ageing society? The performativity of participatory methods in Socio-gerontechnology." In A. Peine, B.L. Marshall, W. Martin and L. Neven (Eds.), Socio-Gerontechnology. Interdisciplinary Critical Studies of Ageing and Technology (pp. 85-98). London: Routledge (co-written with Daniel López, 2021)
> Book chapter: "The lady is not here:" Repairing Tita Meme as a telecare user. In F. Martínez & P. Laviolette (Eds.) Repair, Breakages, Breakthroughs: Ethnographic Responses (pp. 67–72). Oxford: Berghahn (2019).
> Article: "Older People in a Connected Autonomy? Promises and Challenges in the Technologisation of Care / ¿Personas mayores en autonomía conectada? Promesas y retos en la tecnologización del cuidado", REIS, nº 152 October – December 2015, pp. 105-120 (co-written with Miquel Domènech, 2015)
> Book chapter: "Analysing hands-on-tech carework in telecare installations: Frictional Encounters with Gerontechnological Designs". In David Prendergast & C. Garattini (Eds.) Aging and the Digital Life Course (pp. 179-199). London: Berghahn (co-written with Daniel López, 2015)
> Article: "Installing Telecare, Installing Users: Felicity Conditions for the Instauration of Usership" Science, Technology & Human Values, 39(5): 694-719 (co-written with Daniel López, Celia Roberts & Miquel Domènech, 2014)
> Book chapter: "¿Cómo se mantiene una usuaria? Prácticas de apuntalamiento en la teleasistencia para personas mayores". In F. J. Tirado & D. López (Eds.) Teoría del actor-red: más allá de los estudios de ciencia y tecnología (pp. 111-155). Barcelona: Amentia (2012)
> Article: "Restaurar el Orden del Telecuidado: Prácticas de Reparación y la Relación con los 'Monstruos Organizacionales'" (2011) Pesquisa e práticas psicossociais, 6(2): 319-337.
> Article: "Dwelling the Telecare Home: Place, Location and Habitality", Space & Culture, 12(3): 343-358 (co-written with Daniel López, 2009)
TEXTO COMPLETO | FULL TEXT (CC BY-NC-ND 3.0 LICENSE)